Advertise and do good – embed your logo for a good cause
Also in 2020 you can secure a place on our company participant page for 100 € with your linked company logo and do good with it. We donate 100% of all money flowing in through this campaign to the following social project. In 2019, a total of 4,000 euros were donated to the Björn Schulz Schulz Foundation in this way.
You can order or reorder this directly when registering via davengo.
Supports the Sonnenhof – Hospice for children, adolescents and young adults of the Björn Schulz Foundation
The Björn Schulz Foundation is named after a little boy who died of leukemia in 1982 at the age of only seven. For more than 20 years, the Björn Schulz Foundation has been looking after families with seriously and life-shortening children in the inpatient Sonnenhof – hospice for children, adolescents and young adults in Berlin-Pankow and the various outpatient services. The basis for the work of the Björn Schulz Foundation is as follows: When a child becomes so seriously ill, the entire family is always affected. The focus of the work is therefore on the needs of families and their relief. The foundation has the opportunity to accompany these families from the time of diagnosis and to provide them with comprehensive and professional support. And often over a long-term course of the illness and beyond the death of the child.
The Sonnenhof has 12 beds and 5 family apartments for parents and siblings. Furthermore, the families can use various common rooms, a therapy bath and a beautiful large garden with a handicapped-accessible playground.
The three donation-financed pillars in the children's hospice work are the accompaniment of the families in the Sonnenhof, the siblings and the mourning offers.
Thanks for your support!!!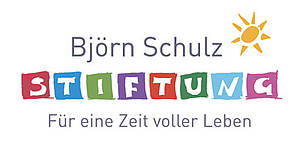 (c) Uta Kellermann avisio
These companies from AZ are already doing good