Your individual event shirt
According to the motto: " Don't fall down, just stand out "Our partner promises ARTIVA SPORTS an exclusive running shirt in the design of your choice for all participating companies and running groups.
The 100% CUSTOMIZED sportswear is produced 100% in Europe.
Inquire here right away, An Artiva customer advisor will call you back on the same working day.
Within one working day you will receive two to three different and very individual shirt designs.
here go to the explanatory video for our 100% individually designed company run shirts. It's easy.
and here go to the explanatory video for our shirt designer.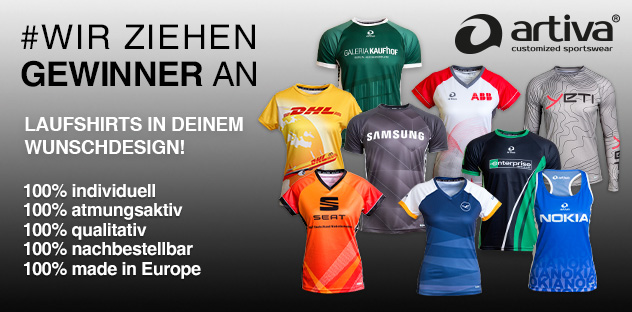 Our anniversary functional shirt
ARTIVA SPORTS designed a very special shirt for the anniversary.
This time a shirt was created for women in pink and for men in classic blue
With Berlin's landmarks in the background and the setting sun, just as we experience it live at the Berlin Company Run (BFL).
The shirt is available in a women's and a men's cut.
In the online registration you can order the shirt until May 6th, 2022, or only while stocks last.
Shirts and medals will be issued on site at the designated issuing stations, see map (publication takes place no later than 3 days before the start).